Thursday November 14th, 2019, 9:49 AM
What is the Lounge?

Spacious, bright and accessible to all, the Lounge is above all a place to meet, relax and reflect. Originally created by content creators wishing to help and "educate" their community, Lounge 4284 in Montreal has distinguished itself from the rest of the available rooms by its relaxed and friendly atmosphere.

Montreal creators, thus, have the opportunity to find refuge in this common space, allowing them to meet other media professionals, thus strengthening the vitality of their community. In line with the coworking space, Lounge 4284 is an innovative and useful initiative for any designer wishing to expand its network. Collaboration and mutual support are at the heart of the various workshops organized by these creators.

Lounge 4284 in Montreal: a place of creation

Located in the basement, this space has convinced many members and visitors since its creation. Often we can meet young entrepreneurs around wooden tables, on couches, exchanging ideas on new projects. Its entirely vegetal wall brings an original and luminous touch to this place whose architecture and mix of colors propels the creators in a disruptive and creative atmosphere.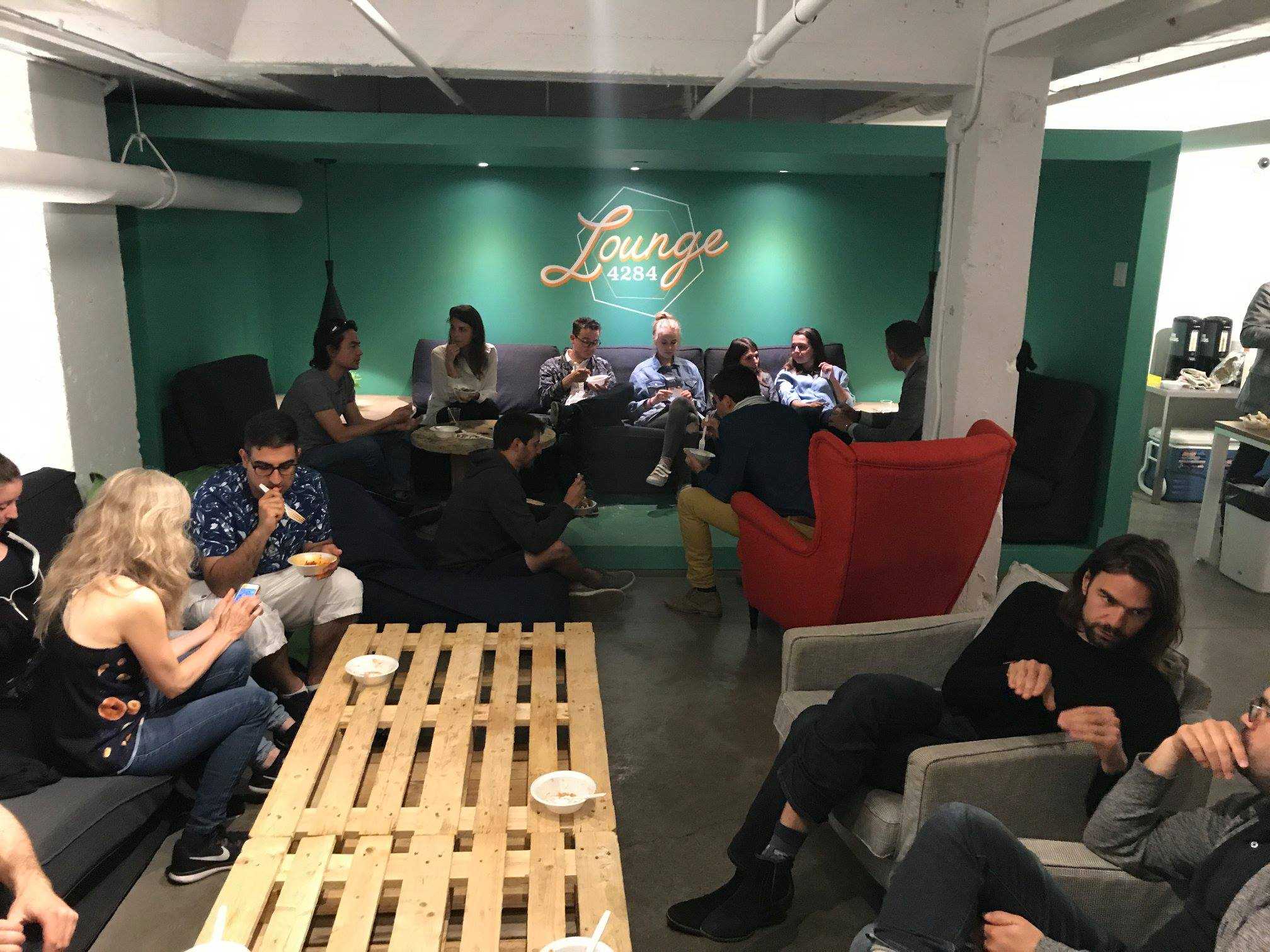 Subway door, Japanese style wallpapers: discover the new lounge in Longueuil!

That's why, at the Halte 24-7 in Longueuil , we decided to follow this initiative by offering a lounge area. This place will allow you to immerse yourself in quality learning. The Longueuil lounge is spacious and can be accommodated according to your needs. It can welcome more than 80 people at various events and is accessible to all! Adaptable, it will surprise you with its unique and atypical decoration. Indeed, beyond its comfortable furniture (couches, Fatboy...), the walls of this space are full of history.

It is because the Halte 24-7 promotes consistency with its environment and its city that we have chosen to decorate a section of the wall with old Montreal subway doors dating back to the 1970s.

Did you know that the Montreal metro is directly inspired by the Parisian metro, pushing us to travel as soon as we enter the lounge. It is this global logic that makes this place a unique and ideal space for all types of events. We were thus able to welcome speakers, creative workshops, training courses or numerous company meetings. Moreover, the Longueuil Lounge will welcome Christmas parties !

Decorated those subway doors, a wallpaper created by Comptois design inspires us with its Japanese look. A real mix of cultures that is offered to you in this emblematic setting of our coworking spaces.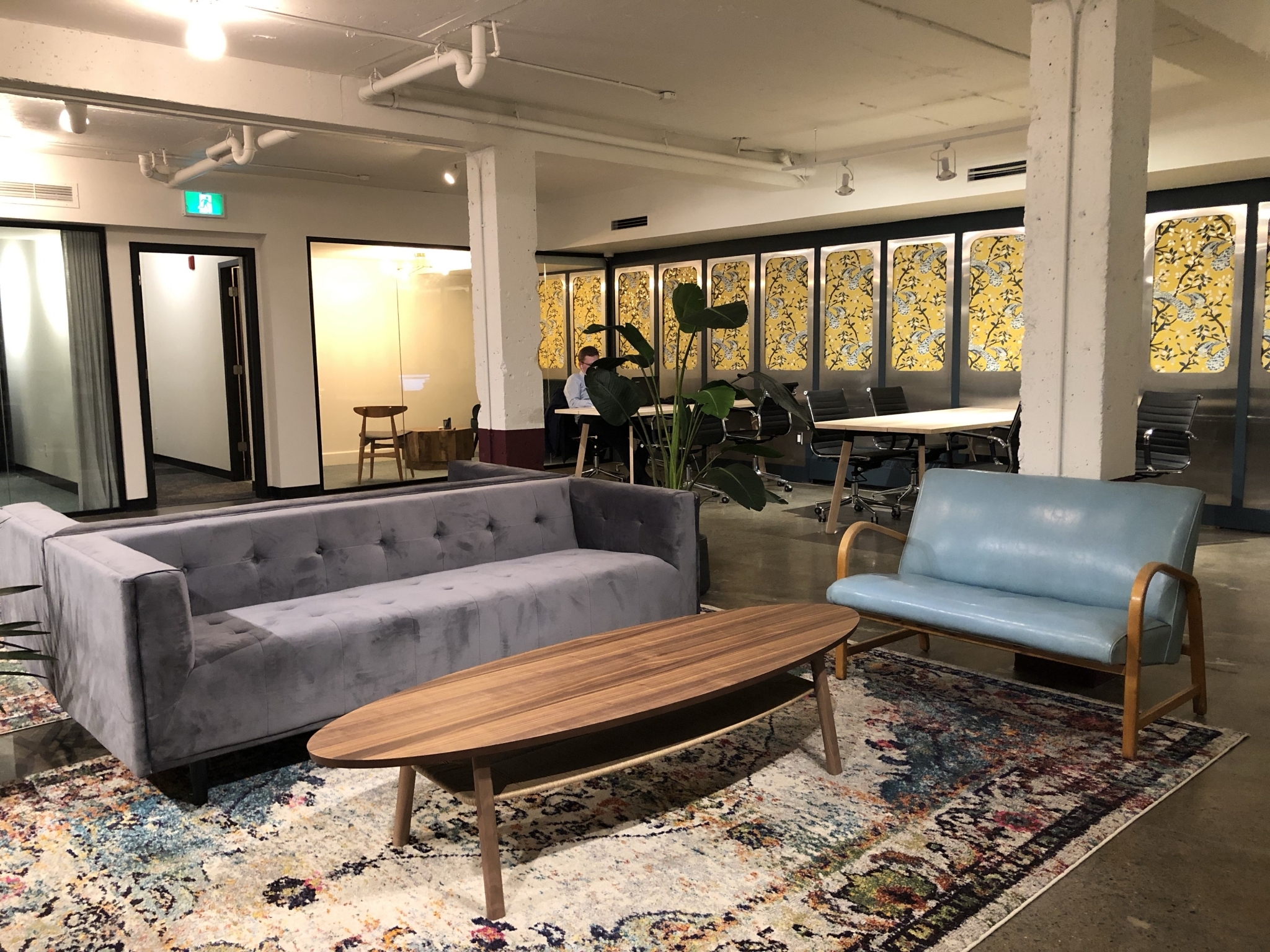 HOW TO CONTACT US?

Halte 24-7 has several conference spaces in Montreal and Longueuil to discover in our series of dedicated articles. These conference rooms can accommodate from 4 to 10 people or even more in the case of the lounge. You can book them by visiting the website, calling (450-332-1411) or going directly to the site!

Take the opportunity to meet your customers in a unique setting!

We hope to see you soon at the Halte 24-7 !